Have you ever wondered what are the best roads to drive? Going on a road trip is always an exciting and captivating adventure for travelers. It's the perfect opportunity to discover new places and fulfill your wanderlust. Imagine driving on scenic coastal roads, passing over lengthy bridges, and crossing breathtaking mountain passes. It's truly a heavenly experience! Here are 10 spectacular roads you should add to your bucket list and drive before leaving this world.
10

Transfagaran highway, Romania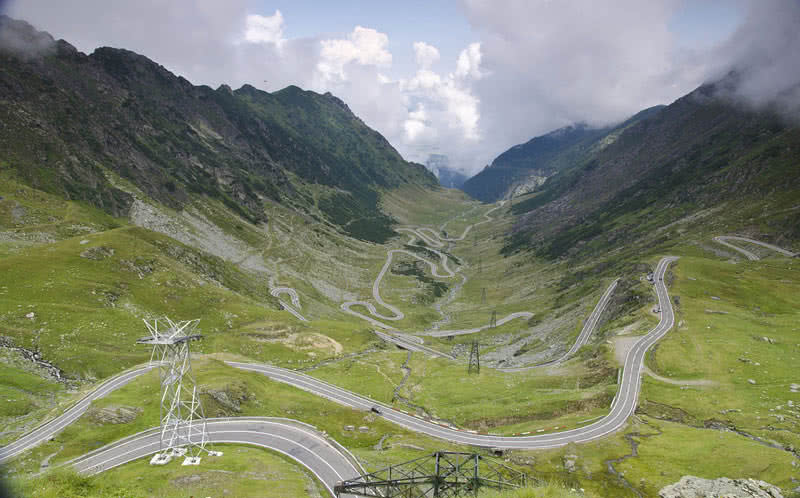 The Transfagaran Highway is a 90 km long road that winds through Romania's second-tallest mountain range. It connects the village of Curtea de Arges to the European route – E68. Due to the challenging terrain, this breathtaking route is usually open to travelers and bikers only from June to September. Drivers will encounter sharp and deep curves, steep drops, and slopes along the mountain faces.
However, the stunning views of landscapes, oaks, beaches, rivers, and lakes make the journey worthwhile. One of the most impressive sights is the beautiful tunnel that passes through the Carpathian Mountain. Another top attraction is the glacial Balea Lake near the road's highest point. Its crystal-clear water is the main water source to create Romania's only Ice Hotel.
9

Col De Turini, France
The Col De Turini is the highest mountain pass in the French Alps, known for its series of hairpin turns and scenic views. It is a leading route for the Tour de France and the Monte-Carlo Rally. Many hikers and drivers prefer to travel on this highway in winter and summer. Along the way, you will get breathtaking views of the Alps mountain range, rivers, rock formations, and dense forests.
The sturdy walls at the road's edges ensure safety. Col De Turini's uniqueness caught the attention of many travelers through the famous Top Gear TV show. With several stops leading up to a 1,607-high peak, the route is even worth it as it's just an hour away from Nice.
See Also:
Suspension bridges are one of the oldest engineering structures in the world. Ropes and wood are the...
Travel
8

Stelvio pass, Italy
The Stelvio Pass is an elevated road that connects the Valtellina Valley and Merano town. It is the highest route in the Eastern Alps, boasting an elevation of 9045 ft. This impressive road was constructed between 1820 and 1825 by Italian engineer Carlo Donegani. Thanks to the popular British automotive TV show Top Gear, it has gained worldwide attention.
Its remarkable height above sea level and exceptional road engineering have earned it the nickname "queen of pass roads" to drive. There are 48 hairpin turns at this route, and string sidewalls protect them. It is one of the busiest high roads to drive in the Alps, attracting numerous racers and tourists from June to September. Throughout the route, there are various vantage points where drivers can capture breathtaking views of the surrounding landscapes.
7

Chapman's peak drive, South Africa
The Chapman's Peak Drive is a breathtaking marine route connecting Noordhoeak and Hout Bay in Cape Town. This drive is often called a "9 km journey through paradise." The Chapman's Peak, which stands at an impressive 1945 ft, boasts 114 curves that provide an exhilarating driving experience. The rocky coastline of Chapman's Peak offers magnificent views of the Atlantic Ocean and beautiful beaches.
From the viewpoints, you can frequently spot dolphins, Southern right whales, and even seals sunbathing on the rocks below. These locations also offer enchanting, west-facing views over Hout Bay and the sunset, making them a favorite spot for couples. The coastal area of Chapman's Peak is popular for activities such as mountain biking, horse riding, paragliding, and rock climbing.
6

Tianmen Mountain Road, China
The S-shaped road that stretches 6.8 miles is a popular attraction on Tianmen Mountain, located in China's Hunan province. The road's elevation rises from 200 to 1300 meters and boasts 99 hairpin turns, offering tourists breathtaking views of the surrounding area. Tianmen Mountain Road leads hikers and drivers to natural arches called "Heaven Ladders," making it one of the world's most impressive mountain roads to drive.
The cable car service on Tianmen Mountain is the longest in the world, providing a spectacular view of the mountain ranges. A large temple located on the summit or footpath access reflects the architectural excellence of the Tang Dynasty. Additionally, a vegetarian restaurant in a 10,000-square-meter setting is available for visitors to enjoy.
5

Seven Mile Bridge, Florida, United States
The Seven Mile Bridge is an impressive feat of American engineering, boasting a length of 7 miles and ranking among the world's longest bridges. It connects Marathon City and Little Duck Key in Florida and features two separate paths – one for railway use and the other for highway travel, known as the 'overseas highway.'
An Email A Day
Keeps Boring Away
Grab our Newsletter.
Never miss a list from TMW.
Driving across the Seven Mile Bridge offers breathtaking views of the Gulf of Mexico and the Atlantic Ocean. Upon reaching Key West, visitors can explore the picturesque Geiger Key Beach, characterized by its sandy shoreline, intriguing driftwood structures, and abandoned canoes. It's the perfect place to unwind before heading back across the Seven Mile.
4

White Rim Road, Utah, United States
The White Rim Road spans 100 miles through Canyonland National Park and is one of the popular roads to drive for mountain bikers and four-wheelers. The light-colored sandstone on the road gives it a natural pavement look. Riders can expect a challenging and exhilarating experience on the steep and exposed sections such as Shafer Trail, Murphy Hogback, Lathrop Canyon Road, Hardscrabble Hill, and the Mineral Bottom switchbacks.
However, completing the entire White Rim loop is impossible during high water conditions due to flooding. Spring and fall are popular times for permits for sightseers, motorists, and hikers. The ride through White Rim Road offers breathtaking views of Canyon Land National Park, including natural arches, towers, and Indian ruins.
3

The Atlantic road, Norway
The Atlantic Road in Norway is a remarkable feat of construction and was named the construction of the century in 2005. This 4.9-mile-long road connects the cities of Kritiannund and Molde, linking several small coastal communities. The road features a zigzag structure in many sections and offers tourists and drivers breathtaking views of the Atlantic Ocean and the opportunity to spot wildlife such as birds, seals, and whales.
Known as the National Tourist Route, it offers a continuous experience filled with cultural and historical significance and stunning coastal scenery. Its exciting attraction is Eldhusøya, the largest picnic area by the ocean, providing an unobstructed view of the horizon. At the same time, the nearby service building boasts unique architecture and houses a café.
2

Furka Pass, Switzerland
The Furka Pass is a high-altitude Alpine route in Switzerland that reaches 2431 meters. It connects the canton of Valais with the Canton of Uri and boasts a wide range of twists and turns. Drivers can expect to feel a refreshing mountain breeze while traversing the pass. However, driving can be challenging during heavy snowfall, so the pass will be closed during winter.
Riding on the nostalgic Furka steam engine from Realp to Gletsch in summer provides an unforgettable experience. The zigzag-shaped route, with its bumps and sharp curves, offers an outstanding mountain drive experience. As you travel through the Furka Pass, you'll be captivated by the stunning glaciers, rock formations, and ice lakes.
Related Articles
Do you dream of owning or riding a super-fast motorcycle? If you have enough money, you might wonder...
Lifestyle
Indeed, trains can't traverse oceans like planes can, but that doesn't necessarily mean they can't...
Travel
Experiencing a roller coaster ride is an unmatched thrill. Famous roller coasters such as Formula...
Travel
1

Highway 1, California, United States
California State Route 1, also known as Highway 1, is a beautiful coastal route that spans 123 miles, connecting Orange County to Mendocino County. As one of the longest coastal routes in the world, this scenic drive links many coastal cliffs and beaches. Along the way, you can explore vibrant tide pools thick forests teeming with rarely seen sea life, and even catch a glimpse of dolphins, seals, otters, and whales.
From the Monterey Bay Area to the southern seaside towns of San Simeon, Ragged Point, and Cambria, you can experience one of the world's most beautiful marine protected areas and unforgettable vistas. Since the highway experiences the most traffic between July and September, don't miss the chance to drive along this route.