Experiencing a roller coaster ride is an unmatched thrill. Famous roller coasters such as Formula Rossa, Kingda Ka, Top Thrill Dragster, Dodonpa, and Superman: Escape from Krypton can reach speeds exceeding 100 mph. Today's roller coasters incorporate exciting features such as hydraulic launches and inversions and use park landscapes in innovative ways.
Below is a list of the top ten fastest roller coasters in existence.
10

Millennium Force, Cedar Point, United States, 93 mph
Millennium Force is a roller coaster at Cedar Point amusement park in Sandusky, Ohio, manufactured by Intamin. When it opened in 2000, it broke several records, including being the first roller coaster to exceed 300 feet in height and the fastest, reaching a top speed of 93 mph.
It also has the longest drop. Unlike traditional chain lifts, it uses a cable lift system. The ride features two tunnels, three overbanked turns, and four hills, and it takes about 2 minutes and 20 seconds to complete a cycle. Millennium Force is one of only two Intamin-built Giga Coasters as of 2020. It was named in honor of the new millennium.
9

Fury 325, Carowinds Amusement Park, United States, 95 mph
Experience the thrill of riding Fury 325, the tallest, fastest, and longest Giga coaster in North America, built by Bolliger & Mabillard. This steel roller coaster is located at Carowinds amusement park in Charlotte, North Carolina, and is the world's fifth-tallest roller coaster. Riders are pulled up a 325-foot chain lift hill and dropped at speeds up to 95 mph.
The train inclines at 81 degrees at the top and takes passengers through a 190-foot high barrel turn and a high-speed S-curve before reaching the park's north entrance. The ride also features an impressive 91-degree overbanked 157-foot horseshoe turn above the park's front entrance.
See Also:
Do you dream of owning or riding a super-fast motorcycle? If you have enough money, you might wonder...
Lifestyle
8

Steel Dragon 2000,  Nagashima Spa Land Amusement Park, Japan, 95 mph
The Steel Dragon 2000 roller coaster, located in Nagashima Spa Land Amusement Park in Nagashima, Mie Prefecture, Japan, is the world's longest roller coaster. Morgan Manufacturing constructed and released the roller coaster to the public on August 1, 2000. The roller coaster's name represents the dragon in Chinese astrology and zodiac calendars.
Riders can experience an exhilarating four-minute ride with a 307-foot drop and up to 95 mph speeds. Additionally, Steel Dragon 2000 is the tallest and fastest coaster with a complete circuit and one of the fastest that uses a traditional lift hill. To make the experience more thrilling, Bolliger & Mabillard introduced new trains in March 2013.
7

Ring Racer, Nürburgring, Germany, 99.4 mph
At Nürburgring, Germany has finally opened Europe's fastest Formula One-themed roller coaster to the public after facing a series of setbacks. S&S -Sansei manufactured the roller coaster with a pneumatic launch system to accelerate it from 0 to 135 mph in just 2.5 seconds. However, two defects in the launch system caused a delay in the opening until 2013.
During testing on September 3, 2009, engineers discovered that the ride could reach a maximum speed of 99.4 miles per hour in less than 2 seconds when operated at a lower power. Unfortunately, the ride closed on November 3, and there is no update on when it will reopen.
6

Superman: Escape from Krypton, Six Flags Magic Mountain Park, United States, 100 mph
The steel shuttle roller coaster at Six Flags Magic Mountain in Valencia, California, was the tallest and fastest roller coaster in the Northern Hemisphere in 1997. The two coasters, Tower of Terror II and Superman: Escape from Krypton, were the first to use technology like, Linear Synchronous Motor (LSM) to propel vehicles to top speed.
It's the only reverse freefall coaster model still in operation as of November 3, 2019, and it accelerates from zero to 100 mph in just seven seconds before shooting straight up a 41-story tower. As of 2013, it still holds the record for the world's third-tallest structure and the third-longest drop of any roller coaster.
5

Red Force, Ferrari Land, Spain, 112 mph
Image credit: sarymsakov/Depositphotos
Try Red Force, the fastest vertical accelerator in Europe, located at Ferrari Land in Salou, Catalonia, Spain. This steel-launched coaster, which opened to the public on April 7, 2017, boasts the tallest height in Europe, along with the world's fastest LSM.
An Email A Day
Keeps Boring Away
Grab our Newsletter.
Never miss a list from TMW.
Within just 5 seconds, riders are catapulted from 0 to 112mph- equivalent to the speed of a LaFerrari road car. The ride propels passengers to 367 feet, with the entire experience lasting around 30 seconds. Red Force can accommodate up to 1,200 passengers per hour for an unforgettable experience.
4

Do-Dodonpa, Fuji-Q Highland Amusement Park, Japan, 112 mph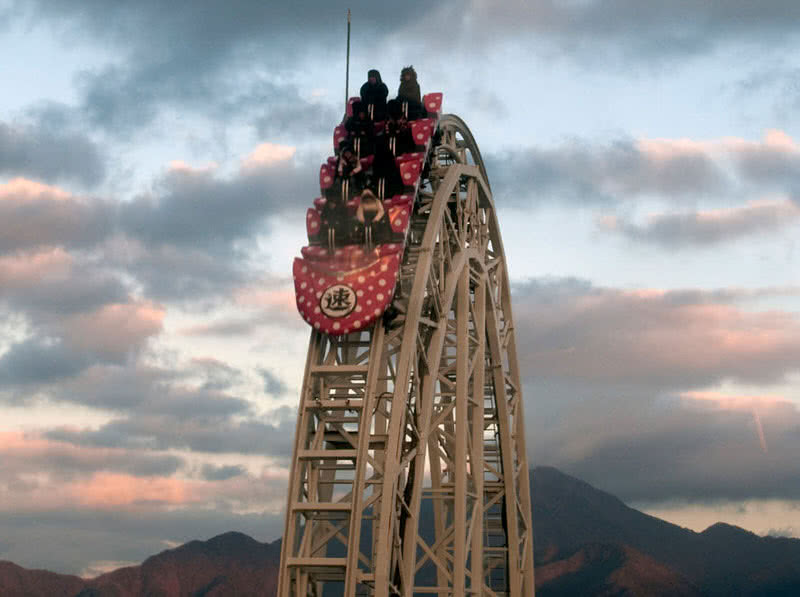 The Do-Dodonpa roller coaster, located at Fuji-Q Highland amusement park in Yamanashi, is the fastest in Japan. Made by S&S, this steel roller coaster uses compressed air to propel the trains, reaching a top speed of 112 mph in just 1.6 seconds. When it opened on December 21, 2001, it was the world's fastest roller coaster, with the quickest acceleration at 3.27 g.
Intermountain Lift, Inc. fabricated the coaster with a total track length of 4,081 ft, and it boasts an impressive 161-foot-tall vertical loop inversion. This feature gives riders a floating sensation during the journey while reaching a height of 161 feet.
3

Top Thrill Dragster, Cedar Point, United States, 120 mph
Ride on the Cedar Point steel accelerator roller coaster in Sandusky, Ohio, will give you an unforgettable experience. This strata coaster is a complete circuit roller coaster that stands over 400ft tall, making it the first of its kind. Riders will travel 2,800 feet of track, reaching 120 mph and soaring to 420 feet.
This fantastic coaster can accommodate over 1,000 riders per hour and is named the "Top Thrill Dragster" for its adventurous experience. You will experience the thrill of a 42-story climb before plummeting 90 degrees. As if that's not enough, the train takes a 270-degree twist on its descent from the hill.
2

Kingda Ka, Six flags great adventure, United States, 128 mph
Image credit: Pitstock/Depositphotos
At Six Flags Great Adventure Park in Jackson, New Jersey, you can find Kingda Ka, North America's world's tallest and fastest roller coaster. It outperforms all other roller coasters, rising to a height of 456 feet and reaching 128 mph in just 3.5 seconds.
Kingda Ka and Top Thrill Dragster are the only two strata coasters currently in existence. As you climb up the coaster's 90° straight ascent, you can experience an exhilarating 270-degree spiral drop back down. Constructed with the help of subcontractor Stakotra, this record-breaking coaster opened to the public on May 21, 2005.
Related Articles
Indeed, trains can't traverse oceans like planes can, but that doesn't necessarily mean they can't...
Travel
For decades, humans have been building objects that are robust and capable enough of achieving high...
Universe
Cities such as New York, Dubai, and Hong Kong boast impressive skylines that showcase remarkable...
Travel
1

Formula Rossa, Ferrari World, United Arab Emirates, 149.1 mph
Image credit: CaptureLight/Depositphotos
Formula Rossa, found in Ferrari World, Abu Dhabi, is the fastest roller coaster in the world. It can reach an incredible speed of 149.1 mph. Riders can experience the feeling of being in a Ferrari F1 car. However, officials had to add brakes to the first hill due to wheel problems and excessive friction, reducing the total speed of the ride.
Inspired by the Italian racetrack Autodromo Nazionale Monza, the roller coaster track offers a length of 1.4 miles. It opened to the public on November 4, 2010. Riders can experience a thrilling journey that lasts just 1.32 minutes, covering a 2.2-kilometer-long track after ascending a 171-foot hill.