We live in a supersonic era, where keeping up with the speed of the ever-shining world is challenging. How about having a super-fast car that takes you to your dream destination before you even think of it? Exciting, right? Here is a list of the world's top 10 fastest cars in 2023 based on the available statistics.
Look at the list of the top 10 fastest cars that will make your journeys crazy!
10

Rimac Nevera C Two, 258 mph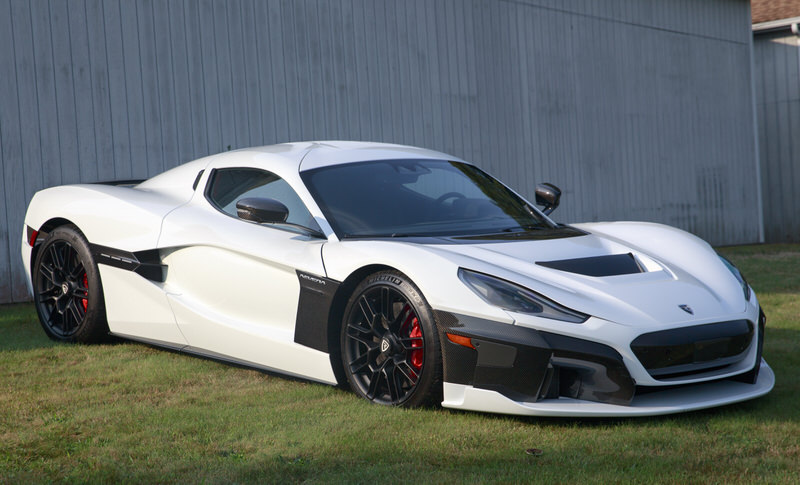 It is the quickest production car in the world, manufactured and designed by Rimac Automobili, a Croatian automotive manufacturer. It has four surface-mounted magnet motors, one for each wheel, that produce 1,914 hp and 2,360 N⋅m of torque. Accelerating from 0-60 mph in just 1.85 seconds and 0–186 mph in 9.3 seconds, it could attain 258 mph or 415 km/h of top speed.
A single-stage gearbox helps to link the front and rear wheels. It also has the largest carbon fiber monocoque chassis out of any other car. Customizable driving modes include sports and track. The car has a double wishbone suspension with adaptive dampers and offers three different modes: soft, medium, and hard.
9

Bugatti Veyron 16.4 Super Sport, 267.85 mph
Manufactured by Bugatti Automobiles SAS in France, the car is designed and developed by Bugatti Engineering GmbH in Germany. The Bugatti Veyron 16.4 Super Sport is a faster and more powerful version, with an engine power of 1,184 hp and a maximum torque of 1,500 N⋅m. It can attain an average maximum speed of 267.856 mph.
The Veyron 16.4 SS uses an 8.0 liter quad-turbocharged W16 engine to give more horsepower. Bugatti revised its chassis and suspension to handle the extra speed and power. The two NACA ducts in the roof provide ventilation to the 16-cylinder engine. Additionally, this car uses fuel pumps to pump fuel eight times faster than a regular vehicle.
See Also:
Do you dream of owning or riding a super-fast motorcycle? If you have enough money, you might wonder...
Lifestyle
8

Hennessey Venom GT, 270.49 mph
It is a high-performance sports car manufactured by Hennessey Performance Engineering, an American hypercar manufacturer located in Texas, US. It holds the unofficial record for the fastest-accelerating street-legal car by beating the Koenigsegg Agera R with an average acceleration of  0–200 mph in 14.51 seconds.
On Valentine's Day in 2014, at the aerodynamic testing at Kennedy Space Center, Cape Canaveral, Florida, the Venom GT achieved a maximum speed of  270.49 mph. Its 7.0 liter twin-turbocharged V8 engine generates 1,451 hp and 1,745 N⋅m of torque. Venom GT utilizes a modified chassis using uses components from the Lotus Exige. Venom GT has an active aero system with an adjustable rear wing to adapt to the road and racetrack.
7

Koenigsegg Agera RS, 277.87 mph
The Agera RS, the most potent version of the Agera, is one of the world's fastest cars, taking an average speed of 277.9 mph. Koenigsegg, the Swedish car manufacturer, made this mid-engine sports car. Additionally, this car provides improved side air outlets behind the front wheels, increased power, and a raised rpm limit.
Koenigsegg designed its engine to offer maximum output even with regular gasoline and E85 ethanol. It uses a 5.0-liter turbo V8 engine to generate 1160 hp. It could attain an acceleration of 0 to 249 mph in 36.44 seconds. The starting point for each Agera RS affords Suede, Nappa, and Alcantara leather on most surfaces. Its detachable hardtop allows the riders for a Targa-Esque driving experience.
6

Czinger 21C, 281 mph
It is a hybrid sports car developed by Czinger Vehicles, an American car manufacturer from Los Angeles, California, using artificial intelligence and 3D printing technology. Originally, planned to present at the Geneva Motor Show in 2020, but then canceled due to the COVID-19 pandemic. Later, its first presentation occurred in London during a special event.
The key specifications of 21C are the centrally positioned driver's seat, an in-line arranged passenger seat behind the driver's seat, and the "BrakeNode" that combines the brake calipers and suspension components. A twin-turbo V8 hybrid gasoline engine with 2.88 liters capacity and two electric motors powered by a lithium titanate battery provides 1,250 horsepower.
5

SSC Tuatara, 295 mph
Developed and manufactured by SSC North America, an American automobile manufacturer, it is the successor to SSC Ultimate Aero. The 5.9-liter twin-turbocharged V8 engine, with a higher redline of 8,800 rpm, provides a power output of 1,350 hp. On E85 fuel, it generates 1,750 hp with a top speed of 295 mph.
Its design specification got inspiration from the aerospace industry. The interior is made of leather and Alcantara. A touch screen on the center console controls the car's functions. Instead of the traditional side-view mirrors, it uses cameras. Carbon-fiber-made body with aluminum crumple zones aids active aerodynamics. In 2022, Tuatara achieved a verified one-way speed of 295 mph at Space Florida's Launch and Landing Facility.
An Email A Day
Keeps Boring Away
Grab our Newsletter.
Never miss a list from TMW.
4

Bugatti Chiron Super Sport 300+, 304.77 mph
Bugatti company delivered these cars to buyers in mid-2021. The Chiron Super Sport 300+ can go 300 mph, but this car will have a speed limiter. It also has a seven-speed, dual-clutch all-wheel-drive system. Moreover, it can reach 0-to-60 mph in less than 2.4 seconds, like the Bugatti Centodieci.
This car is full of a super-strong, super-light polymer with carbon. It also offers a naked carbon fiber body. An 8.0-liter Quad-Turbo W16 Gas engine with 7000 rpm generates a maximum Power of 1,577 hp. Bugatti made its engine cover and the windscreen wiper using carbon fiber. Its fixed rear wing reduces drag. The overall design of this car adds downforce and reduces pain.
3

Bugatti Bolide, 310+ mph
Bugatti Bolide is a track-only hypercar manufactured by the French automobile manufacturer Bugatti Automobiles S.A.S and developed by Bugatti Engineering GmbH in Wolfsburg, Germany. Bugatti has confirmed that Bolide would be the last version made with their W16 engine, providing a weight-to-power ratio of 1.50 lb/hp.
The Bolide framework that uses an 8-liter quad-turbo W16 engine with 7-speed dual-clutch automatic transmission helps the Bolide to generate over 1,824 hp and 1,850 N⋅m of torque, which is more than the Chiron Super Sport 300+.  The Bolide accelerates from 0–62 mph in 2.2 seconds and 0–186 mph in 7.4 seconds and can attain a top speed of more than 311 mph.
2

Hennessey Venom F5, 310.7+ mph
Developed as a sports car, Hennessey Venom F5 is manufactured by Hennessey Special Vehicles, an American vehicle manufacturing company contracted with Delta Motorsport of Silverstone, England. F5 means "F5 tornado", representing the highest rating on the Fujita scale, with a wind speed as high as 261–318 mph.
With a 6.6 liter twin-turbocharged V8 engine, the car attains a power output of 1,817 hp and 1,617 N⋅m of torque. The Venom F5, which accelerates from 0–186 mph in less than 10 seconds and from 0–249 mph in  20 seconds, attains a top speed of 301 mph, verified by a V-MAX speed-tracking system. The chassis and entire body of the car are made of carbon fiber.
Related Articles
Experiencing a roller coaster ride is an unmatched thrill. Famous roller coasters such as Formula...
Travel
Human have started to build more powerful and high-speed objects for decades to reach distant...
Universe
Indeed, trains can't traverse oceans like planes can, but that doesn't necessarily mean they can't...
Travel
1

Koenigsegg Jesko Absolut, 330 mph
Developed by Koenigsegg, a Swedish automobile manufacturing company, Koenigsegg Jesko Absolut is a high-speed version of the Koenigsegg Jesko sports car. First introduced in 2020, together with Gemera, it is the latest successor of Koenigsegg Agera. The key specifications are the two rear fins replacing the rear wing on the Jesko Attack to reduce the downforce from 3,086 lb to 331 lb.
The smooth front louvers and rear wheels with removable covers provide high-speed stability. An elongated structure, with a rear extension of 85 mm, provides its additional length. Like the Jesko Attack, a 5.1 liter twin-turbocharged V8 engine generates a power output of 1,281 hp and 1,000 N⋅m of torque on normal gasoline and 1,603 hp and 1,500 N⋅m on E85 biofuel.