National parks with rich biodiversity play an essential role in regulating the climate, reducing various types of pollution, and maintaining water quality. Additionally, visiting these parks provides a unique opportunity to learn and understand diverse plant and animal species up close. Below is a list of the top 10 must-visit national parks in the United States.
10

Cuyahoga Valley National Park, Ohio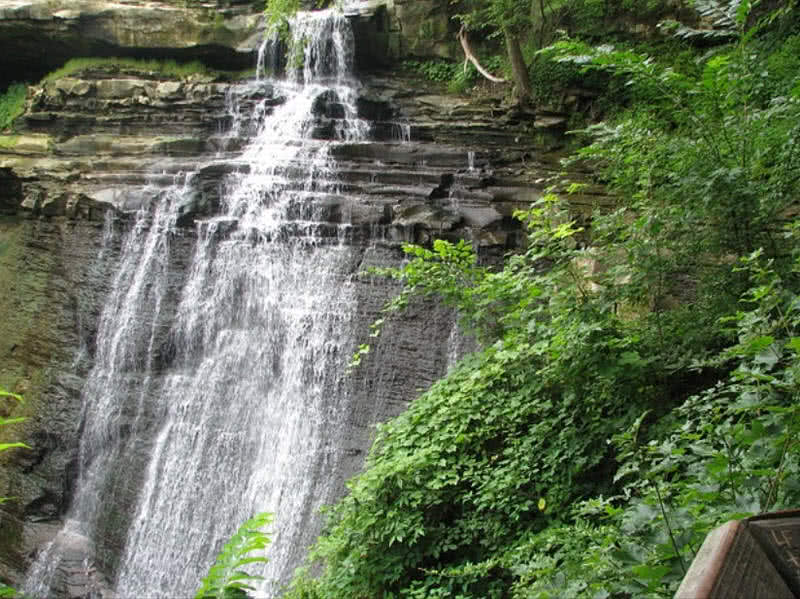 Cuyahoga Valley National Park, located in the northeast of Ohio, offers splendid views of nature in all seasons. It provides varied activities such as downhill skiing, snowshoeing, and sledding, particularly in the winter. The park is near the banks of the Cuyahoga River, providing visitors with a clear view of 22 miles of the river. It is home to around 900 plant species, 197 bird species, and 20 reptile species.
The park also boasts several historical sites, including the Frazee House, Everett Road Covered Bridge, and Boston Store, built centuries ago. Visitors can explore the national park with the Cuyahoga Valley Scenic Railroad, which has been in service for over 100 years. The rolling hills, waterfalls, and towpath of Cuyahoga National Park provide a spectacular view of nature.
9

Acadia National Park, Maine
Acadia National Park in Maine is the first national park in the northeastern United States. The park boasts natural wonders such as ponds, lakes, mountains filled with rocks, and woodlands, which make it unique. It spans a vast area of 47000 acres, offering breathtaking views from Cadillac and the seashore, making it a popular destination for millions of visitors.
The park provides over 125 miles of historic hiking trails, ranging from easy walks along coastal paths to challenging mountain hikes. Additionally, there are facilities for exploring the park through motorcycle or horse rides. You can enjoy marvelous views of the leafage over thousands of acres. The park is home to 40 different species of mammals, including mountain lions and grey wolves.
See Also:
Yellowstone National Park allows visitors to enjoy the unique hydrothermal and geologic wonders,...
Travel
8

Rocky Mountain National Park, Colorado
Rocky Mountain National Park is a protected area spanning 265,873 acres in Colorado. As its name suggests, it is home to a mountainous environment. The best time to visit this park is between June and October when you can witness the blooming of rare wildflowers and enjoy driving on the trail ridge roads.
This park is a popular tourist destination in the United States due to its 300 miles of hiking trails and the presence of rare wild animals, such as mountain lions, black bears, bighorn sheep, and moose. Additionally, visitors can observe limestones that are almost 2 billion years old. The park is also renowned for backcountry skiing and snow play.
7

Grand Teton National Park, Wyoming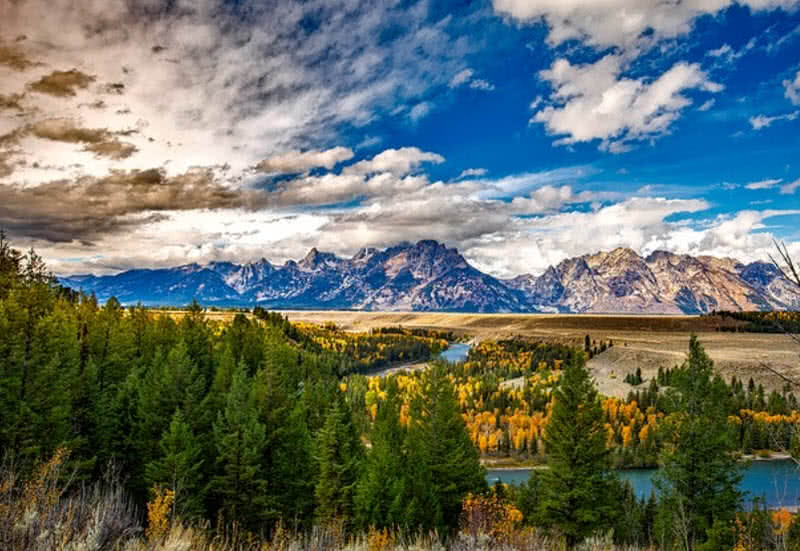 Grand Teton National Park covers a vast area of 310000 acres in Wyoming and is located within the Teton mountain range of the United States. The park offers stunning views of mountain rocks and wildflowers and boasts 200 miles of trails across the mountain range.
Most visitors come during the warmer months when they can witness a variety of wildflowers, abundant fish species, herds of bison, elk, antelope, black and brown bears, and many species of birds, including bald eagles and brilliantly colored western bluebirds. Visitors can enjoy a spectacular view of Snake River while participating in snowshoeing, skiing, rollerblading, and cycling.
6

Yellowstone National Park, Wyoming
Yellowstone National Park is located near Grand Teton National Park and spans across 2,221,776 acres of land in Wyoming. It was established in 1872 and is the world's first-ever national park. Yellowstone is also home to the world's largest and greatest concentration of hydrothermal features. Visitors can witness geysers that erupt every 90 minutes, reaching several meters in height.
The park features several scenic lakes and rivers, including the iconic Yellowstone Lake, the largest high-altitude lake in the park. The park primarily consists of dense forests predominantly made up of lodgepole pines. Among the 300 different species of birds living year-round or migrating seasonally identified in the park, songbirds and woodpeckers constitute the greatest number of species.
5

Olympic National Park, Washington
Olympic National Park is a world heritage site and an international biosphere reserve, spreading across 922,000 acres of land. The park is primarily dedicated to preserving the finest primeval forest samples of western hemlock, Douglas fir, and western red cedar in the United States. Its 73 miles of coastline make it a popular tourist destination.
An Email A Day
Keeps Boring Away
Grab our Newsletter.
Never miss a list from TMW.
The park boasts a vast, lush rainforest, offering stunning views of nature. Visitors can marvel at beautiful Sol Duc Falls and rare species, such as the world's tallest trees, including the big Sitka spruce that can live up to 1,000 years. Additionally, visitors can enjoy the beautiful coastline of Rialto Beach and the breathtaking views of the sea's carving.
4

Zion National Park, Utah
Zion National Park is renowned for its vast expanse of Navajo sandstones, spanning 148733 acres. The park is a popular destination for canyoneering enthusiasts in the United States and offers hot air balloon rides over its scenic landscape. It is also home to a diverse range of wildlife, including 289 rare species of birds and 75 species of mammals.
The park boasts geological wonders such as slot canyons, sand dunes, and spectacular rock arches, the most prominent being Crawford and Kolob. Visitors can view the Crawford Arch from the park's Human History Museum's patio. The Kolob Arch is visible only to those who hike within the park's Kolob Canyon area. In addition, visitors can enjoy hiking, horseback riding, and several scenic drives throughout the park.
3

Yosemite National Park, California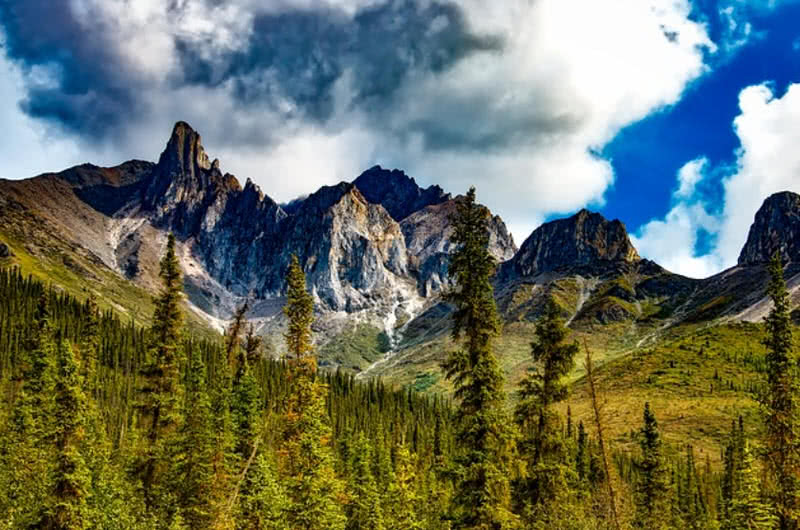 Yosemite National Park, located in California, is one of the most popular national parks in the United States for its outstanding scenery. You can witness the carvings and rock formations created by the Merced River, which runs 145 miles within the park. The park offers a rich diversity of over 7,000 plant species, some unique to the area. Yosemite also features spectacular geological attributes like glaciers and canyons.
The Yosemite Valley, one of the park's main attractions, can get crowded during summer, where visitors can enjoy legendary hikes and breathtaking views. Yosemite is covered in snow during winter, making it perfect for skiing, skating, and snowshoeing. The park has many beautiful waterfalls, including the stunning 617-foot Bridal Veil Falls.
2

Great Smoky Mountain National Park, Tennessee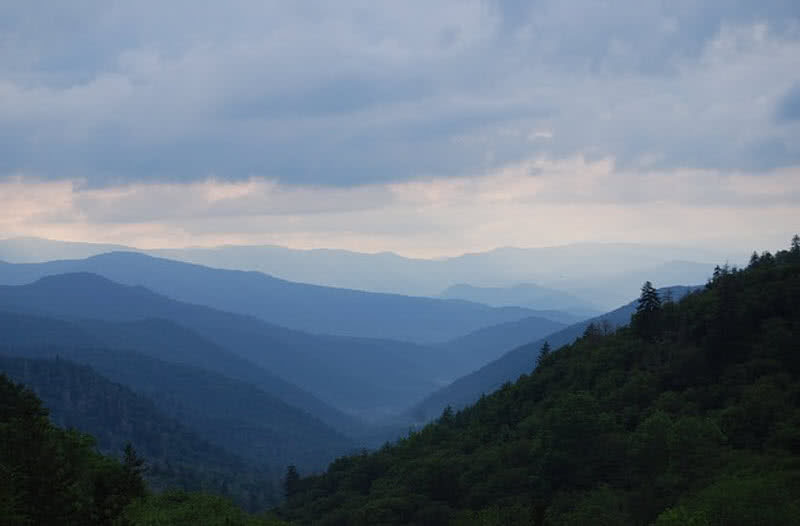 Smoky Mountain National Park attracts approximately nine million visitors annually. It is also a UNESCO world heritage-listed site. The park covers a vast area of 521896 acres, which offers miles of hiking trails and a rich density of different plant species. The park is home to 1600 special species of flowering plants.
Smoky Mountain National Park is famous for its historic structures and unique geological formations, including limestone rocks deposited by sediments. The park is home to several waterfalls and wild streams. Hiking through the Great Smoky Mountains on the Appalachian Trail and taking a wildflower walk are popular activities for visitors looking for an unforgettable experience.
Related Articles
The weathering and erosion leads formations of many geological wonders on Earth. Like a patient...
Travel
There are so many things that the United States is famous for - Such as internet, Hollywood, large...
Travel
America, The land of innovations also home to number of spectacular sights carved by mother nature....
Travel
1

Grand Canyon National Park, Arizona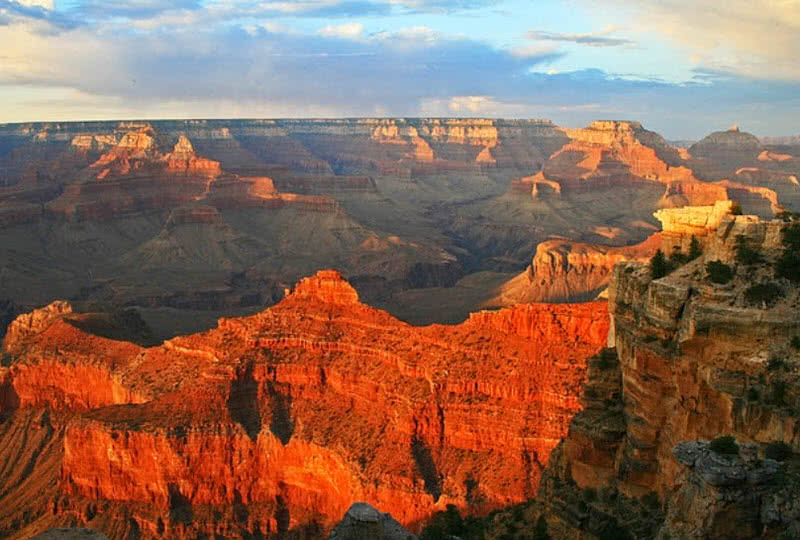 The Grand Canyon, located in Arizona, is one of the most visually stunning landscapes in the world. It is famous for its plunging depths and vast, multi-hued, labyrinthine topography. The colorful rock formations in the park are half the age of the Earth, and natural erosion has continuously changed the rock formation in these areas. The metamorphic rocks in the canyon reveal many ancient facts about Earth.
The Colorado River, which flows in an arch formation, has made carvings in the canyon. Around 800 million gallons of water flow through the Grand Canyon every hour. A portion of the canyon area is a Forest Reserve that consists of 80 special species of mammals and 250 species of birds, such as bald eagles, peregrine falcons, and the rare California condor.